South West Trains joins the partnership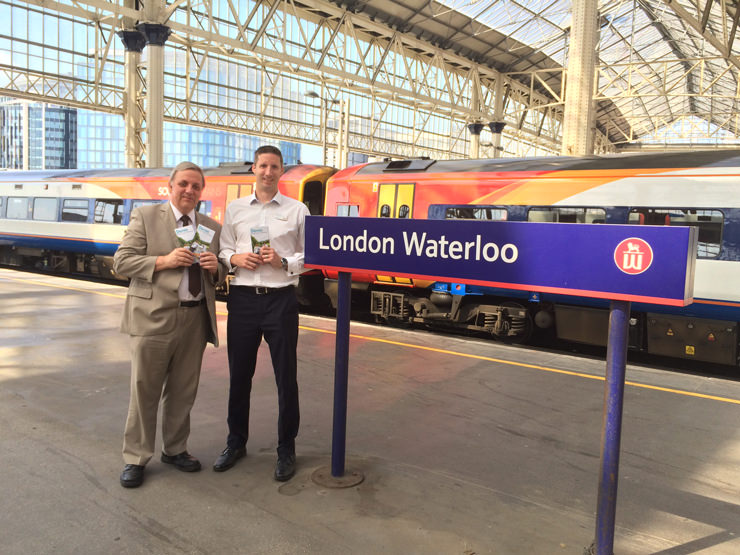 Devon will be more widely promoted away from the county thanks to a new rail initiative as South West Trains joins the Devon & Cornwall Rail Partnership.
The Plymouth University based non-profit partnership, one of the Country's largest Community Rail Partnerships, works to promote and seek improvements to services and facilities on rural railway lines in the two counties.
Under the new arrangement, South West Trains will join Devon-wide promotions run by the Partnership. The Partnership will also focus on the new station of Cranbrook near Exeter promoting use of the station and working with the community on locally driven projects.
The first joint initiative is the "Devon – Great Scenic Railways" booklet (see PDF version, 5MB). 150,000 of these 24 page free booklets have been produced promoting exploring Devon by train.
The booklet includes the Axminster – Exeter line with those run by Great Western Railway. 20,000 of the booklets are being distributed through principal South West Trains stations including London Waterloo, Guildford, Southampton Central and Salisbury. In addition, Great Western Railway are distributing 40,000 of the booklets through stations in their network, including London Paddington, Bristol Temple Meads and Reading.
Partnership Manager Richard Burningham said:
"We are delighted that South West Trains has joined the Devon & Cornwall Rail Partnership. We look forward to working closely with them, particularly on promotions and projects at Cranbrook. It is great to see the early fruits of this with our Devon booklets at both South West Trains and Great Western Railway stations."
South West Trains Community Rail Liaison Manager Richard Kempton said:
"We are really pleased to be working with the Devon and Cornwall Rail Partnership, promoting a really important line on our network and encouraging our customers to explore this lovely part of the country."
The "Devon – Great Scenic Railways" leaflet is widely available through railway stations and in Devon through leaflet racks in tourist information centres, holiday accommodation and many other outlets.
South West Trains joins long time Partnership members Great Western Railway, Cornwall Council, Devon County Council, Plymouth City Council and Plymouth University.