South East Cornwall rail projects scoop national awards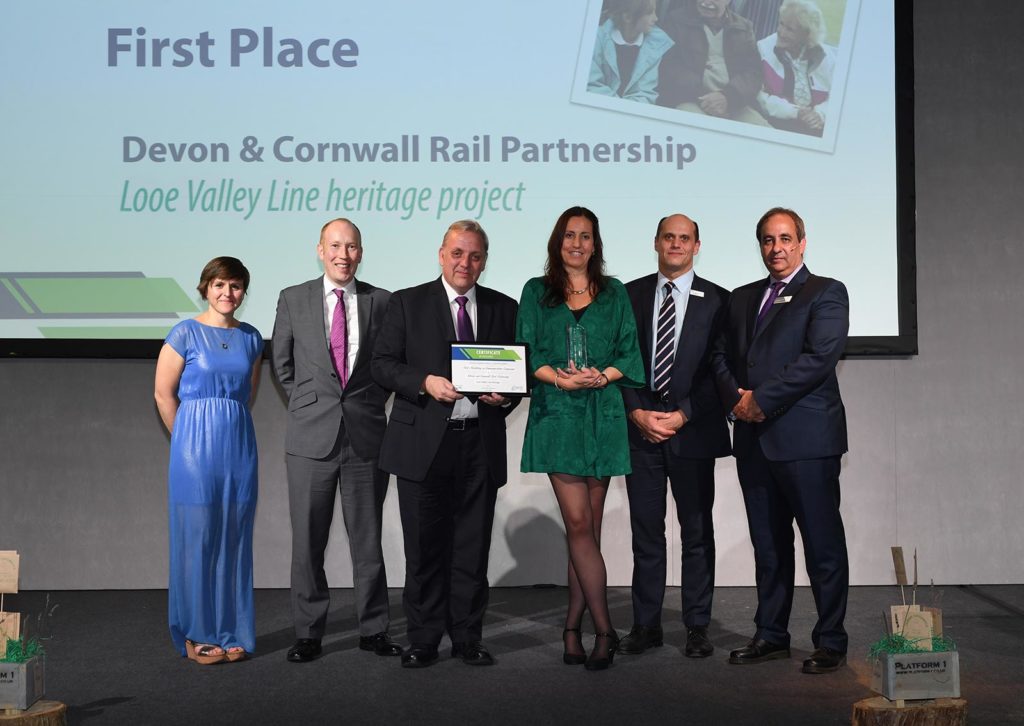 A trio of Devon & Cornwall Rail Partnership projects in South East Cornwall have been recognised at the national Community Rail Awards.
The Looe Valley Line Heritage Project which celebrates the history of the Liskeard to Looe branch line won two awards. The Partnership recorded local people's memories of the steam era at drop-in days and on special inter-generational train trips on the line. They coupled these hidden stories of the railway with photography from the National Archives, and produced a website, a mobile phone app, interpretation boards at each station and a four-part video documentary.
In front of an audience of more than 400 rail industry, community and government representatives, the project won both the "Best Marketing Campaign" and "Best Community Engagement" categories at the national Community Rail Awards held in Telford, Shropshire.
The community award focused on the project's CreativiTea trains. These special trips on the Looe Valley Line saw pupils from Duloe and Looe Primary Schools invite parents and grandparents aboard to discuss their rail memories at a tea party on the train, complete with cup cakes, arts and crafts and more. The CreativiTea concept was created by poet Sally Crabtree who hosted the events with Rebecca Catterall from the Rail Partnership.
The Gunnislake Tile Project came second in the "Community Art Schemes – Permanent & Larger Projects" category. This project, completed in June, saw decorative tiles made and installed at the station by local potter Rosie Fierek, following community drop-in sessions and workshops at Delaware and Gunnislake Primary Schools where over 200 children and adults created tiles which are now at the station. The Partnership's Rebecca Catterall worked with Rosie on the workshops, drop-in days and liaising with the rail industry.
Richard Burningham, Manager of the Devon & Cornwall Rail Partnership, said:
"I am delighted that our Looe Valley Line Heritage Project, and the CreativiTea trains that were part of it, have won these awards against very stiff competition from around the country. We are also really pleased that the lovely Gunnislake station tile project came second in its category."
The next phase of the Looe Valley Line project will see a new heritage centre developed at Platform 3 of Liskeard station, to be opened in 2020.
The Community Rail Awards, now in its 15th year, is organised by ACoRP, the Association of Community Rail Partnerships.
The Devon & Cornwall Rail Partnership is a non-profit partnership between local authorities, the rail industry and the University of Plymouth. It works to promote use of the region's local lines and seeks improvements to service and facilities to boost the local economy and to link the community and the railway.
The projects were made possible by funding from GWR's Customer and Communities Improvement Fund and the Designated Community Rail Development Fund, a joint initiative of the Department for Transport and ACoRP, the Association of Community Rail Partnerships.