Petroc College students give Barnstaple station a makeover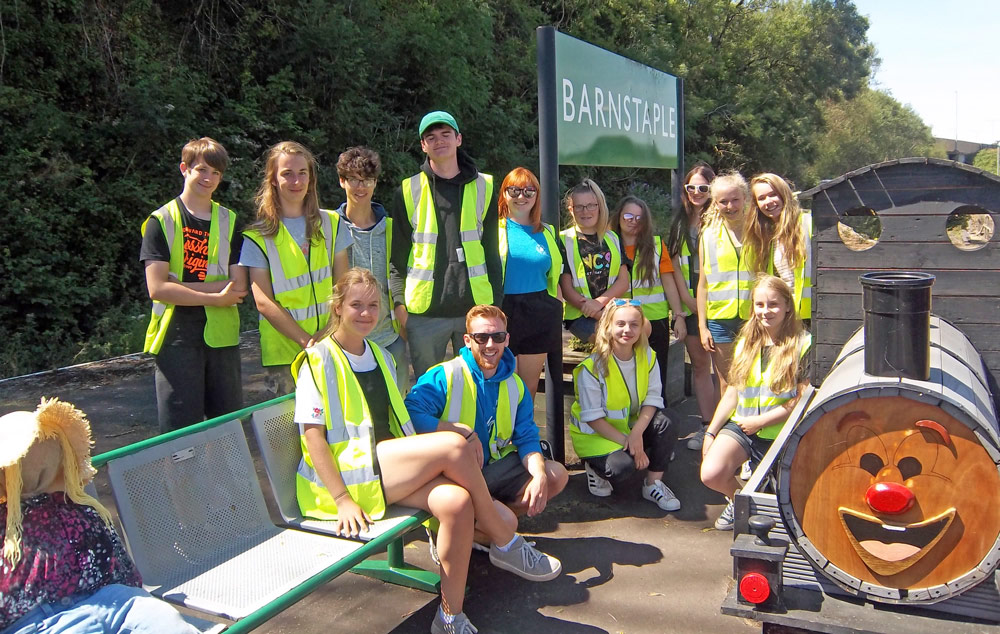 A group of students from Petroc College have spent two weeks of action at Barnstaple station as part of the National Citizen Service.
The students spent a week fundraising for activities, which included a cake sale at the station, then a week making over the planters on the disused platform.
As well as weeding and putting new plants into the existing planters, the team have created new ones made from recycled tyres, added scarecrows made from rubbish and incorporated a bike, donated from Tarka Trail Cycle Hire, to highlight the Tour of Britain which will be visiting Barnstaple in September.
Rebecca Catterall from the Devon and Cornwall Rail Partnership who helped set up the scheme at the station said:
"This is the second time students from Petroc College have worked at the station and the results are outstanding. I hope anyone using Barnstaple station will enjoy what the students have achieved in such a short time."
Lizzi Stevenson, NCS Delivery Coordinator at Petroc College said:
"The team have had a fantastic fortnight at Barnstaple station and really enjoyed developing the project and putting it into practice. They have been really touched by not only the positive feedback from members of the public and station staff but the generous donations they have received."
GWR station manager Melanie Harvey said:
"The station at Barnstaple is at the heart of the community we serve, and we are incredibly grateful to the students from Petroc College for their work to improve the station environment for all users, as part of their National Citizen Service programme."
The planters at Barnstaple station have been transformed over the last 18 months with a number of organisations involved including Barclays Bank, the Tarka Rail Association, Network Rail, Great Western Railway and the Devon & Cornwall Rail Partnership.
The National Citizen Service is a voluntary personal and social programme for 15 to 17 year olds in England where participants take part in a range of adventure activities, and develop independent living skills, as well as planning and undertaking a social action project in their local community.
The Devon and Cornwall Rail Partnership works to promote and seek improvements to services and facilities on rural branch lines in two counties and is a non-profit partnership between local authorities, including Devon County Council, Cornwall Council, Plymouth City Council, University of Plymouth and Great Western Railway.