Marsh Barton station now open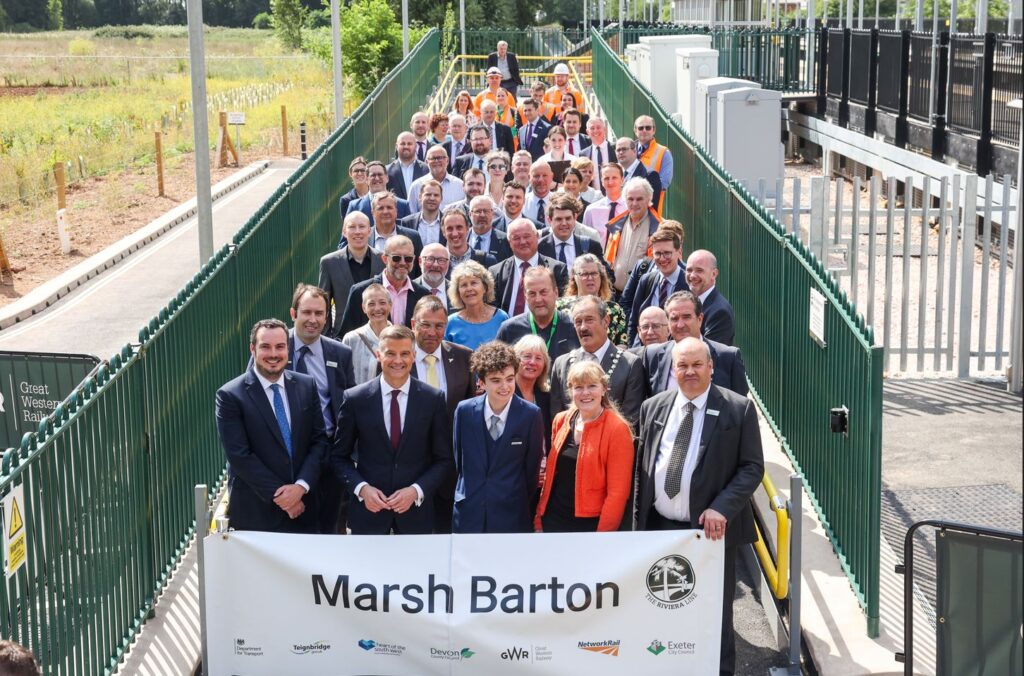 Marsh Barton station is now open – becoming Exeter's ninth railway station.
A special ceremony was held yesterday at the station attended by Transport Secretary, Mark Harper, in advance of the start of passenger services today (Tuesday 4th July 2023).
Opening the station with Mark Harper was Ben Roberts-Mitchell (pictured centre of front row), a local resident who despite having a rare genetic condition has been enthusiastically watching as the station construction progressed.
Visiting the station alongside an event at the newly-opened Dawlish sea wall, Transport Secretary Mark Harper said:
"I am delighted to see the completion of these major projects, delivering a Government commitment to improve a vital rail route for passengers in the South West.

"These projects demonstrate a Government that is delivering our promises, investing in vital infrastructure and improving transport connections to help grow the economy."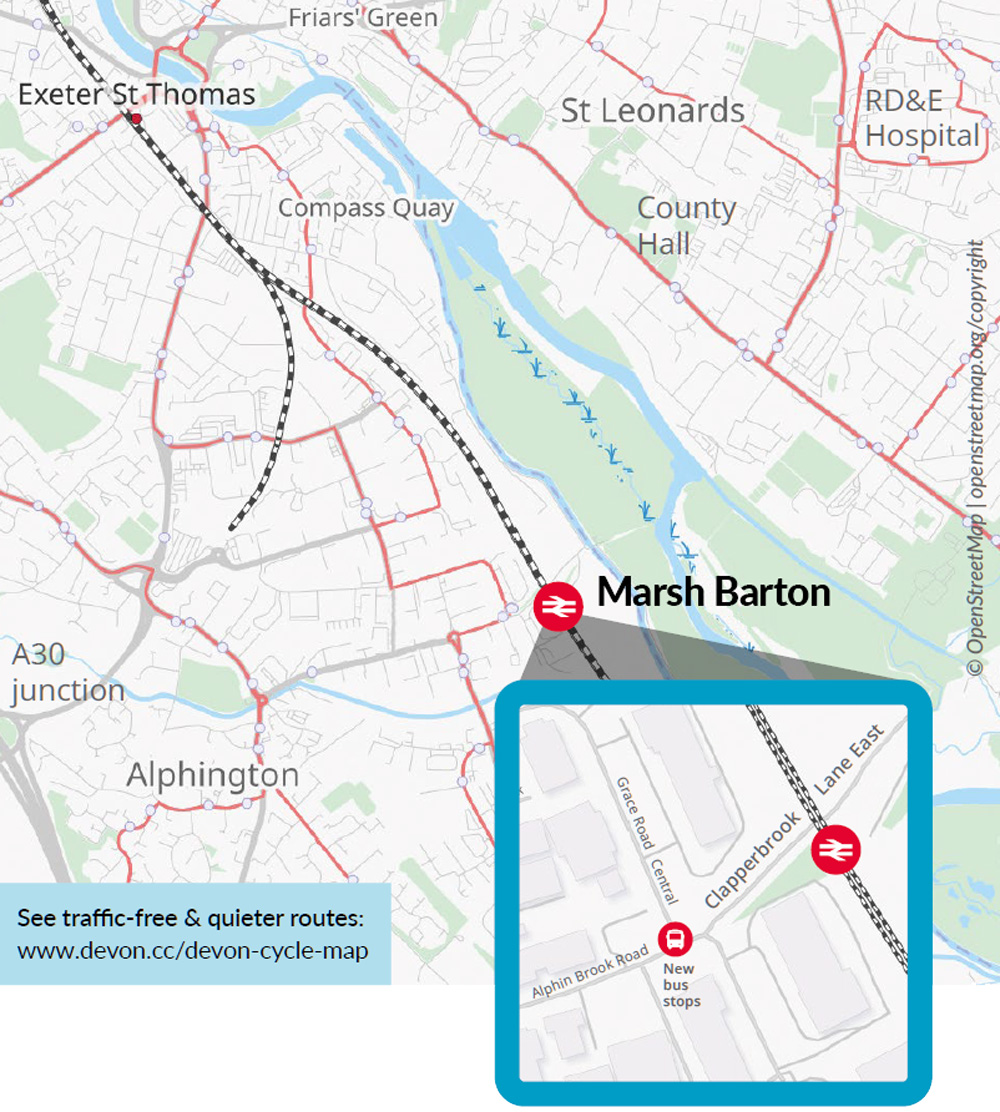 Marsh Barton is the second of three new Great Western Railway (GWR) stations opening this year along with Reading Green Park (opened in May) and Portway Park & Ride (due to open later this summer).
GWR Managing Director, Mark Hopwood, said:
"New stations such as this are vital in bringing the railway closer to people as we become mindful of the need to live and travel more sustainably. Marsh Barton will help to ease congestion on some of Exeter's busiest roads and offer a more environmentally friendly option for those who normally drive into the area.

"Marsh Barton is one of three GWR stations to open this year along with Portway Park & Ride in Bristol and Reading Green Park, and we are excited for the benefits these stations will bring to the local economy, to residents, businesses and leisure travellers in the areas they serve."
The £16 million project has been delivered by Devon County Council in collaboration with Network Rail and Great Western Railway (GWR) and built by construction and civil engineering specialist firm GRAHAM.
The station will be served by hourly Great Western Railway services between Paignton and Exmouth, with more at peak times and will improve active travel links between Alphington, Marsh Barton, and the Riverside Valley Park.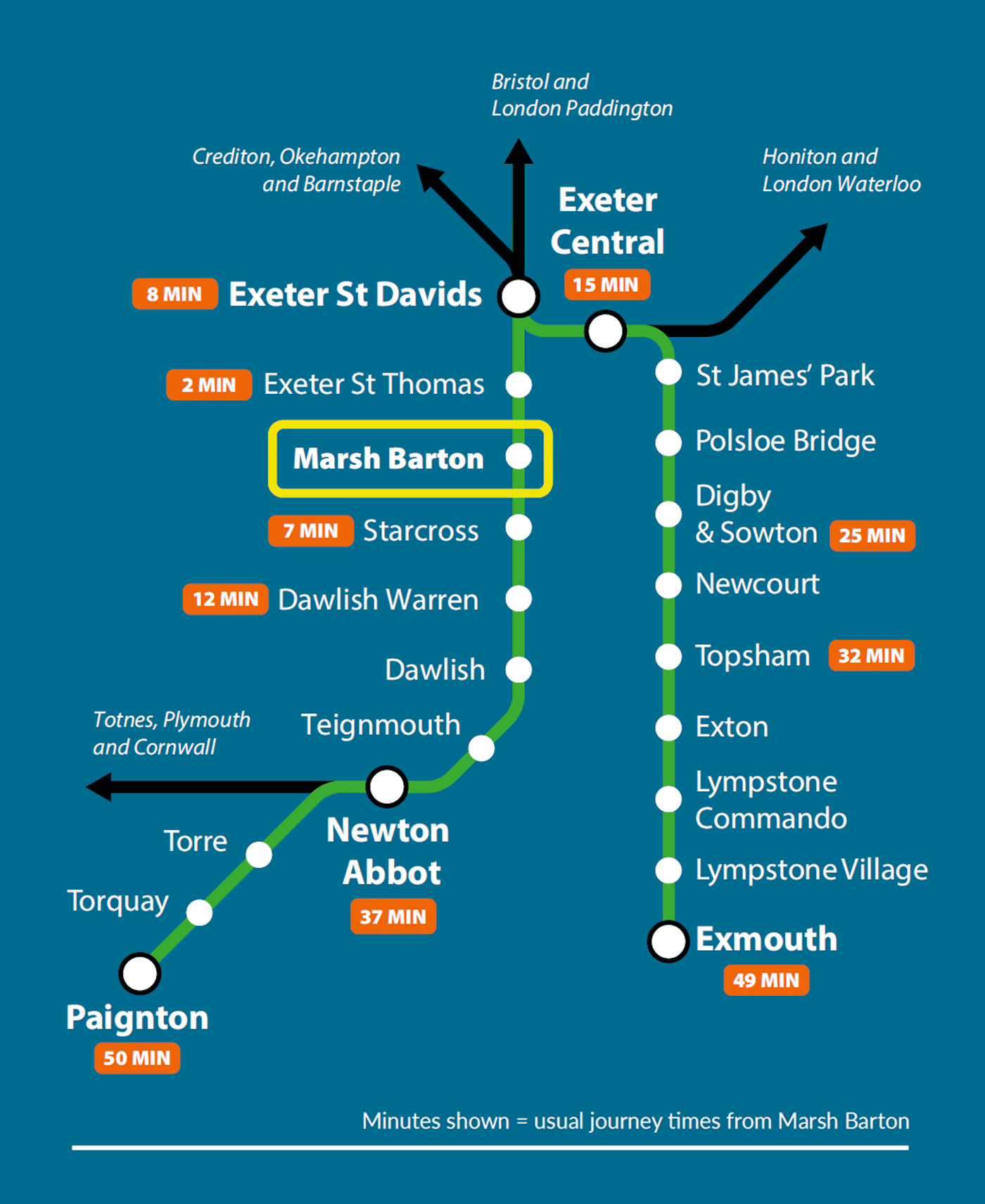 The station features two fully accessible platforms equipped with:
Ticket machines
Smart ticket readers
Live train departure screens
Waiting shelters
Help points
The two platforms are linked by a pedestrian overbridge which has ramps to facilitate cyclists and provide disabled access to the whole station.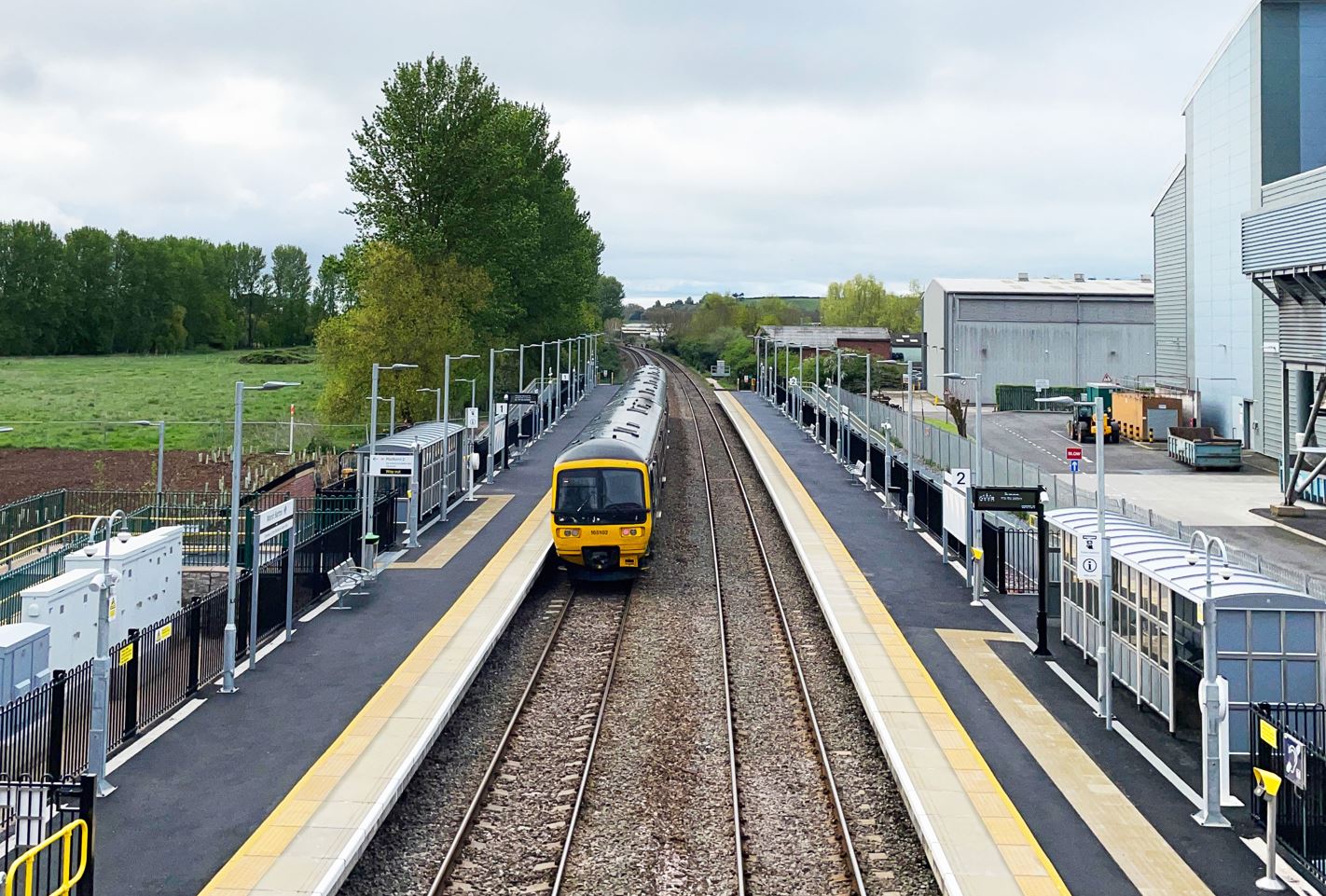 Councillor Andrea Davis, Devon County Council Cabinet Member for Climate Change, Environment and Transport, said:
"It's extremely satisfying to see Marsh Barton railway station become a reality. Despite a number of setbacks and challenges over the years we have persevered and remained committed to this project to ensure more people in Devon have access to sustainable transport links, helping to tackle congestion on our roads, improve air quality and reduce carbon emissions.

"This is the third station we have helped to deliver in the county over the past eight years, following new stations at Newcourt and Cranbrook, as well as the opening of the Dartmoor Line between Exeter and Okehampton.

"Marsh Barton Station is another major improvement to the rail network in Devon and we're honoured that the Secretary of State can join us to mark this occasion. Thanks go to all of the partners involved for their efforts that have made this scheme possible and we've no doubt it will be very well used."
Michelle Handforth, regional managing director of Network Rail's Wales and Western region, said:
"It's fantastic to see Marsh Barton station officially opened by the Secretary of State for Transport this morning.

"The station will provide access to one of the region's largest employment sites at Marsh Barton Industrial Estate, boosting the local economy and providing employment opportunities in the area. Leisure travellers and tourists will be able to make the most of sustainable access to cycle routes and walking trails through the station's close proximity to Riverside Valley Park.

"The new station is the long-anticipated result of a working partnership between Network Rail, Devon County Council and GWR and I'd like to thank everyone for their hard work and dedication in making Marsh Barton a reality. I hope that the local community are able to experience the benefits of improved access to the east of Exeter for years to come."
Karl Tucker, Chair of the Heart of the South West LEP, said:
"It is fantastic to see that the new station at Marsh Barton, Exeter is due to open shortly, improving connectivity for our local communities and supporting growth especially around the west and south of Exeter area, as well as the wider region. We are proud to have supported the project with £4.4m of our Growth Deal fund, as part of our ambition to drive clean and inclusive growth."
Teignbridge District Council Executive Member for Planning, Councillor Gary Taylor, said:
"This is an important step in improving access to South West Exeter for those who travel on the Riviera Line service. The new station gives cyclists and pedestrians easy access to and from trains which as well as helping commuters will boost active travel via the nearby Riverside Valley Park and Exe Estuary Trail."
Councillor Josie Parkhouse, Exeter City Council's Lead Councillor for Climate and Ecological Crisis, said:
"It is great news that a new railway station is opening at Marsh Barton, allowing residents, workers and visitors to access this busy area using public transport. Everyone is aware of the need to use cars less often in order to lower emissions and reduce traffic pollution, and for that to happen people need access to reliable and efficient public transport. So I very much welcome this development and I look forward to the new station opening shortly."
Councillor Yvonne Atkinson, County Councillor for Alphington and Cowick, said:
"Locals are excited it will be open for the summer holidays. I see cyclists and walkers stopping to admire how beautiful the station is. It nestles perfectly into the ECC/Devon Wildlife Trust Riverside Valley Park which is a haven for wildlife. Now people will be able to enjoy this straight off the train. It is a credit to the partnership between DCC, ECC, Network Rail, GWR and GRAHAM."
Andrew Henry, Contracts Director at GRAHAM, said:
"We are extremely proud to have delivered this fantastic new station in collaboration with Devon County Council, Network Rail, and GWR.

"This project presented several logistical challenges, but our innovative approach and strong working relationships enabled us to overcome them successfully. We are grateful to our project team for their hard work and dedication to delivering this important new rail link."
The scheme is being funded by the Department for Transport's New Stations Fund, Devon County Council, Heart of the South West Local Enterprise Partnership, Exeter City Council, Teignbridge District Council, Network Rail and GWR.
For more information please visit GWR.com/MarshBarton