Great Scenic Railways website
Our award-winning website to promote the branch lines to visitors and local day trippers
All lines
2014-present
Partners
Great Western Railway
Awards
1st, Best Marketing Campaign
Community Rail Awards 2015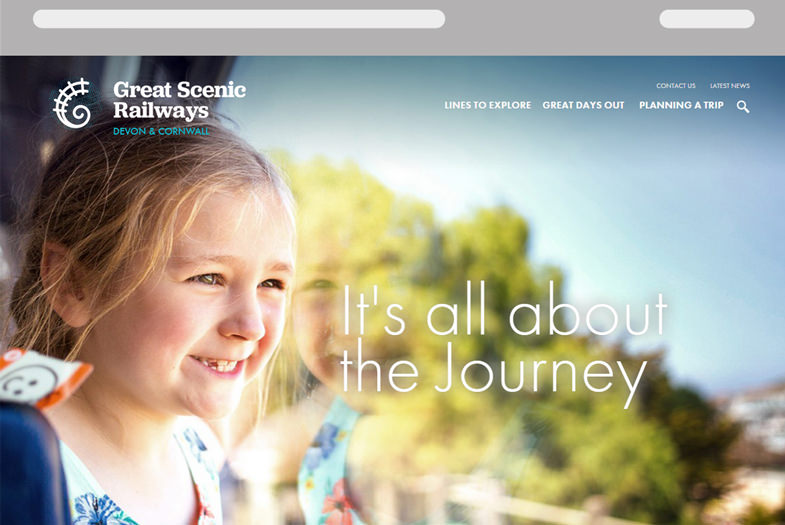 Great Scenic Railways is the Partnership's tourism-focused website, promoting the branch lines to more than 75,000 tourists and local day trippers each year.
The site was expanded and received a modern re-design in spring 2014 thanks to funding from the Designated Community Rail Development Fund and from Great Western Railway. We worked with leading Falmouth-based creative agency Gendall to give visitors a much-improved experience on the website.
The new website is "responsive"
It resizes to fit the screens of different devices. This is vital given that tablet and smartphone users now account for more than half of the traffic to the site.
It is much more visual
We put a strong emphasis on photography. Users no longer have to rely on us telling them how scenic the lines and destination are – they can see it for themselves.
It offers lots more content
The site includes two extra lines (the Avocet Line and the Riviera Line), has dedicated pages for the key stations on all eight branch lines, and incorporates two previously external satellite sites (RailAleTrail.com and TrailsFromTheTrack.com).
It is much easier to update
The use of the popular WordPress content management system means that all members of our team can now edit and add content to the site with ease.
Partner organisations have noticed the difference. "Very impressive – fresh, clear and excellent" was the verdict of Devon County Council's Transport Planning Officer, while St Germans Rail Users Group praised the site as "really user friendly – I found what I was looking for easily."
The website attracted more than 10,000 people within its first five weeks. This represents a 40% increase on the same period in 2014. Users also now stay longer on the site, and explore more pages.