Facebook campaign to promote branch lines reaches 390,000 people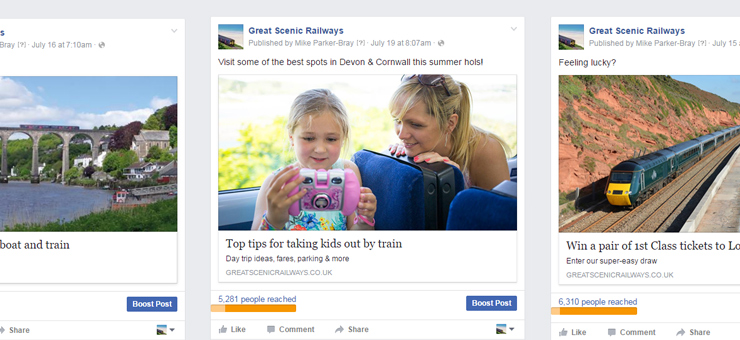 The Partnership has completed a four-month Facebook advertising campaign to raise the profile of the branch lines and inspire people to take day trips by train.
Concluding last week, it reached more than 390,000 people and helped to double traffic to our Great Scenic Railways website.
The campaign consisted of 77 adverts and boosted posts, aimed exclusively at rail-served cities, towns and villages in Devon and Cornwall. Using Facebook's advanced targeting features, we promoted specific day trips to audiences who were most likely to be interested in them.
Example post
For one advert we wanted to highlight that dogs are allowed on the train. We wrote an article on dog-friendly Cornish beaches you can reach by train, and promoted it exclusively to dog owners. The post received hundreds of Likes, and more than 170 people shared the post with their own friends – providing great third party endorsement.
Impact
Posts such as this generated more than

20,000 visits

to the Partnership's Great Scenic Railways website, helping to double traffic to the site year-on-year for the period of August to December.
The campaign also produced a

500% increase in Facebook followers

. From a starting point of 708, there are now 4,482 people who follow the Great Scenic Railways Facebook page long-term – giving us a much increased audience moving forward.
Most importantly of all, there were many examples of people commenting to say they would be making a trip on the lines, or had already done so – showing the 'real world' impact of the campaign.
The £5,000 campaign was part funded by the Designated Community Rail Development Fund which is backed by the Department for Transport and ACoRP, the Association of Community Rail Partnerships.