The Dartmoor Line joins the community rail family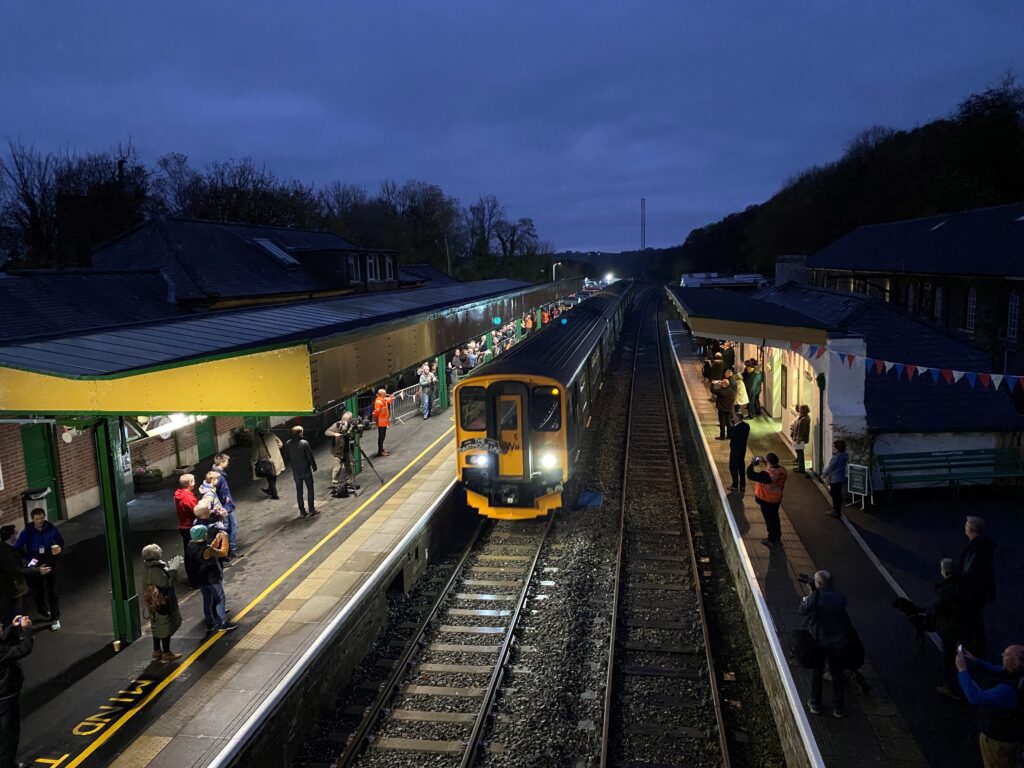 After nearly 50 years and amid great celebrations, the Dartmoor Line between Exeter and Okehampton in Devon reopened to regular, daily, year round services on Saturday 20th November.
The line is the first to be reinstated under the government's Restoring Your Railway initiative. The reopening is a fantastic achievement for campaigners in the local community who have long championed the return of the line, as well as for volunteers from the Dartmoor Railway Association who have worked tirelessly to preserve and enhance Okehampton station and its facilities.
The Devon & Cornwall Rail Partnership has been proud to support these efforts and over the past year has been working closely with Great Western Railway, Network Rail and the local community on plans for the reopening.
The Partnership's involvement with the Dartmoor Line actually goes back a number of years. We have been involved with and advising the OkeRail Forum, the community campaign group, since it was set up in 2015 and currently sit on the Forum's executive committee. Other activities include organising and securing funding for updated heritage-style signage at Okehampton station, building relationships with local schools and building and running the official Dartmoor Line website http://www.dartmoorline.com – which has received more than 70,000 visitors to date – on behalf of the partners.
This year is the 150th anniversary of the railway first arriving in Okehampton – the actual anniversary was 3 October – and the Partnership publicised this locally, bringing together a community group to organise celebrations and then secured funding to make sure the community-led plan could be delivered. The 150th celebrations were very well supported and great further publicity for the reopening.
The line opens with a two-hourly service but several further exciting milestones still lie ahead. A range of new facilities will open at Okehampton station in the spring, including a station café, Dartmoor National Park visitor centre, heritage waiting room and more. Then next May the service will increase to hourly in another major development for the line. Meanwhile a national funding bid has been submitted for a brand new Okehampton Parkway station situated on the east of the town and close to the main A30 road.
Richard Burningham, manager of the Devon & Cornwall Rail Partnership and Chair of the Community Rail Network, said: "The reopening of the line will benefit not just Okehampton but also a much wider area spanning West Devon and North East Cornwall, bringing the rail network 30 miles closer to many people's homes and businesses than it was before.
"We've been very proud to support the local community in getting to this momentous day and look forward to helping the line go from strength to strength over the coming years."
A Dartmoor Line section will be added to this website shortly.
The main photo shows the first train arriving at Okehampton station just after 7AM on Saturday 20 November.  Photo courtesy of Network Rail.