Bere Alston old signalbox restored for Scouts' potting shed
The old signalbox at Bere Alston station has been restored, thanks to a Devon & Cornwall Rail Partnership project.
The signalbox is of historical significance and dates from the opening of the Plymouth – Lydford line in 1890.  The line north of Bere Alston closed in 1968 and two years later, the line from St Budeaux was singled resulting in the closure of the signalbox itself on 7 September 1970. It is the original signal box, extended in 1927 to include the branch line to Gunnislake and Callington and had 30 levers to control the station, junction and the adjacent sidings.
After closure, the signalling machinery was removed and the signalbox was used as a messroom for the local track maintenance gang until the early 1990s. It has been disused since then.
Rebecca Catterall, the Partnership's Development Officer, led the project.  The main work has been undertaken by SBP Carpentry & Construction in St Ann's Chapel. The signal box windows needed replacing and the new ones – wood framed, just like the originals – were made by joiner Stephen Carr of Tavistock.
Chris Grove of Bere Ferrers Rail Heritage Centre assisted throughout – especially when it was found the bit of old rail holding up the signal box floor was corroded. Chris had another bit of rail exactly the right length and donated it – plus wood for the exterior panelling too.
A carefully researched replica of the original nameboard was made by Brian Oldford of Wellington, Shropshire. The project was made possible thanks to the Railway Heritage Trust and Community Rail Development Fund.
The station's planters are looked after by the local Scouts and it is intended that the box will now become a potting shed for them.
Cllr Peter Crozier, Chair of Bere Ferrers Parish Council said; "We welcome the restoration of this iconic building of yesteryear, with it especially available for the Local Scouts Group. We also look forward to its possible use when the Tavistock rail line is reopened. We thank the local Rail Partnership for obtaining the funding and directing this project."
Richard Burningham, Devon & Cornwall Rail Partnership Manager said "I am really delighted with the great restoration of the old signal box at Bere Alston – we were determined it would be done – and look forward to seeing how the scouts use it as their base to look after and improve the planting on the station's disused platform.
"Many thanks to all those who have made it happen – our funders, contractors and a big shout out to Chris Grove at the Tamar Belle for his help and my colleague Rebecca Catterall who led the project."
An early essential task was removing 60,000 bees who had made their home in the old signalbox.  The story of that day, written up by Rebecca Catterall, is here https://communityrail.org.uk/bere-alston-signal-box/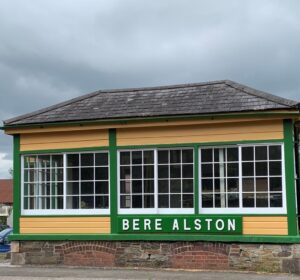 Photos courtesy of Paul Bryant